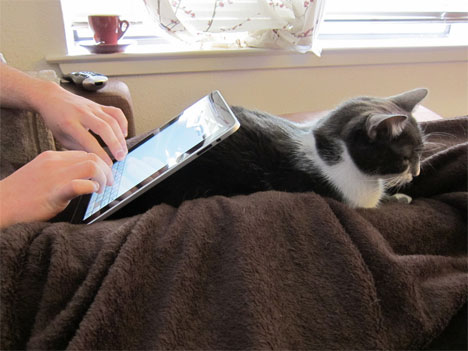 Probably one of the more popular features of the iPad—aside from its multi-orientation interface—is its accessibility to hundreds of thousands of apps. These programs have been specifically designed to run on the iPad; there is zero possibility to find it anywhere else, except on the iPhone and iPod Touch. The applications cater to a wide range of categories, including entertainment, business, games, education, and sports. Practically anything you can think of has been prepared for by Apple engineers and third-party developers. Whatever your need, there's an app for that.
One useful application offered on the iPad is an e-book reader called iBooks. The size of the iPad screen is ideal for reading; there is no squinting necessary to view text displayed on this device. Most of the technical aspects relating to the readability of the material can be adjusted such as its brightness, text size, typeface, and background. The background lighting can be dimmed according to the user's preference and this is especially useful for reading at night since nocturnal reading becomes unbearable when the screen is too bright.
Moreover, text size and font styles can be altered to suit the user's needs. For some odd reason, we all have quirky preferences when it comes to font styles. There are people who just simply could not stand neither Times New Roman nor Arial; sometimes, they find it easy to read huge blocks of text displayed in Helvetica or Palatino Linotype. Text adjustment is definitely good news for those who like to read lengthy novels.
Another wonderful feature of the iBooks app is its capability to render superb graphics. iPad's crisp screen and high-speed memory allows images to appear as you read it without waiting for the image to complete. It makes graphic novels and illustrated books better appreciated.
Incidentally, Marvel Comics has its own e-book reader app on the iPad, which means the Marvel experience is easily accessible via a simple download! The images can be enlarged or minimized by simply pinching on the multi-touch screen. It is also easier to navigate and browse the pages of Marvel's comic books by tapping the thumbnails.
In line with further reading, the Wall Street Journal and the New York Times have also created an app exclusively for the iPad. While it is not exactly a great replacement for a physical broadsheet newspaper, it provides as easy, "tap-worthy" access to news as you need it.
These applications are available on the not-so-subtly named marketplace App Store, which can be accessed on a specialized app on the iPad. iBooks is already included in the device once you purchase it, while the Marvel Comics app can be purchased on the App Store or through Amazon. Currently, Amazon still holds the record of offering more and better titles more than any other e-book seller. The user has the option to preview the books or comics before buying and as a lucky iPad owner, you can also order Marvel Comics in print to add to your collection.