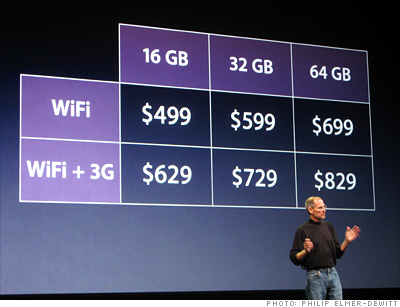 You know you want an iPad. That's probably the coolest thing you can have for the next few months. You've dreamed of going around with it since it was announced early this year. You have probably even considered waiting in line for the release of the first batch of iPad in stores. But you didn't. So what's keeping you from getting one?
Your Choices
There are six iPad variations available. The Wi-Fi models with 16 gigs, 32 gigs and 64 gigs capacity and the Wi-Fi +3G models of the same capacities. Price varies from $499 to $829. Somewhere in that price range is the perfect iPad for you.
But how do you decide which is the perfect choice?
Consider how much capacity you actually need. If you love resource-hungry apps, you should probably get yourself the one that boasts the largest capacity. If you typically download small apps, you should probably stick with the one with basic specs. Single purpose utilities and solutions shouldn't be your problem. These typically are not voracious memory eaters. What you need to worry about are video and audio files. If you love loading your devices with lots of music and videos, consider a model that has a bigger storage room.
At the end of the day though, you still have to consider how much you are willing to dole out for a multifunctioning device. You will spend at least $699 on a 64 GB Wi-Fi iPad and at least $829 for a 64 GB Wi-Fi + 3G model. Another consideration is the fact that it takes A LOT of apps to use up all your iPad's memory so unless there really is a need to buy the one with the largest capacity, and for that matter, the highest tag price, you should probably consider the models hovering between the basic and high end variants.
Is 3G that important?
For 3G support, you should be ready to spend $130 dollars extra on your iPad. This is on top of the price of the model you choose. This comes in very handy when you are frequently out of range of hotspots.
The good thing with iPad's 3G support is that it does not bind you to any long-term contracts. You can choose from AT&T's offer of $14.99 for a maximum of 250MB data transfer per month which you can repurchase whenever you choose or $29.00 for unlimited data transfer. Not a bad deal. Not at all. On top of this, you also get to access AT&T's hotspots whenever you want.
But still, is 3G that necessary? Depending on how much weight you put on wide-area network coverage. Among the top considerations for getting 3G service for your device is the preparation for the possibility of needing to connect online when you're nowhere near a range of access point. This is especially crucial if you live your life online, 24/7.
Still uncertain about which model you should choose? Follow the rule of thumb in buying devices – buy the highest model that your wallet can afford.